FROM THEVINYLFACTORY.COM:
---
(forwarded by Kevin Royce, The Vinyleaters)
Posted March 3, 2015
http://www.thevinylfactory.com/vinyl-factory-news/us-vinyl-factory-finds-13-abandoned-presses-to-become-one-of-the-countrys-biggest-pressing-plants/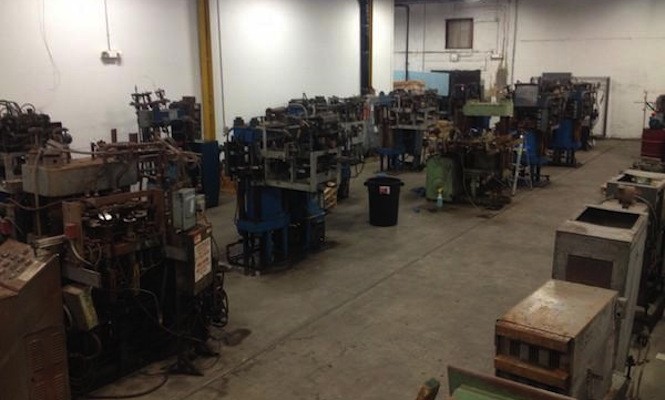 After discovering thirteen presses in a Chicago warehouse, Quality Record Pressings double their capacity to become one of America's largest vinyl factories.
With vinyl sales at a record high, vinyl factories all over the world are struggling to keep up with surging demand from labels and consumers. Even America's largest pressing plant has had to stop taking on new customers; a sign of the times. So, as a factory, if you get wind of a pressing sale, whether in Africa or America, it's probably an opportunity worth leaping at, which is exactly what Quality Record Pressings have done.
According to Analog Planet, factory owner Chad Kassem was alerted to a warehouse in Chicago full of dusty presses that had last been used in the '90s to produce "bootleg" 78s for export to India. Likening to situation to "opening Al Capone's vault and actually finding something", Kassem snapped up the inventory consisting of ten Hamilton presses, two SMTs, and one Lened.
Currently, capacity at QRP is struggling to cope with soaring demand, resulting in production backorders of three to four months. The plant is preparing to embark on triple shifts, meaning 24 hours a day operation but even then order delivery is expected to take several months, at least. As a result the additional presses couldn't have arrived at a better time. Upon restoration and installation of these extra presses, QRP will be operating with a total of 27 presses, doubling its capacity, and making it one of the country's largest record pressing plants.
Check out photos of the presses being transported to Quality Record Pressings in Salina, Kansas [viaAnalog Planet]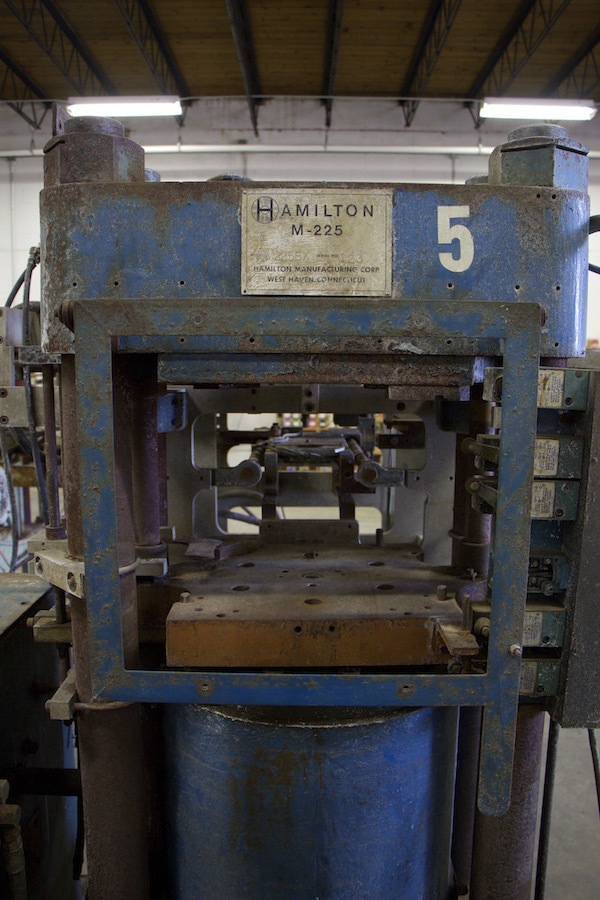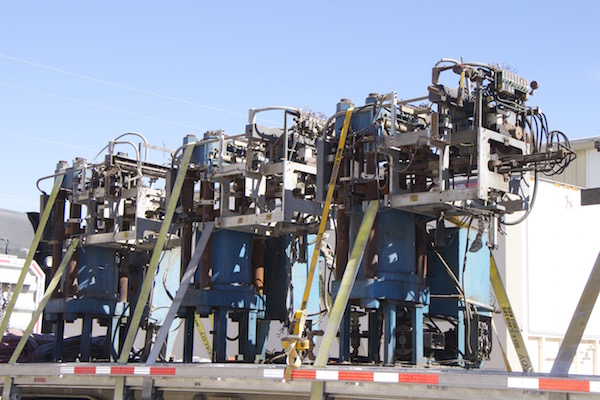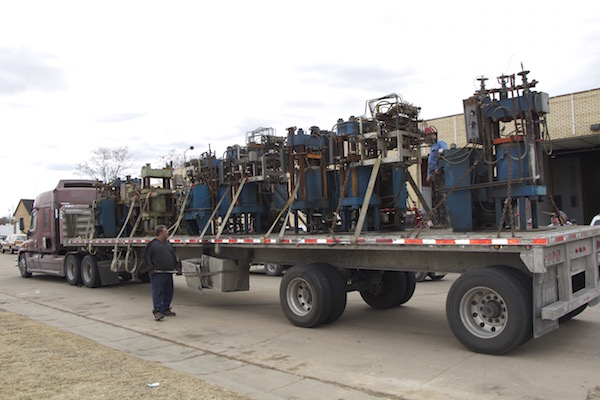 /end
---
Posted February 19, 2015
One of Africa's last record pressing plants sold on eBay
[NOTE:  SELLER ENDED AUCTION 2/25/2015 DUE TO ITEM NO LONGER BEING AVAILABLE]
Zimbabwe's only vinyl factory could be yours for £160,000.
A complete, abandoned record pressing plant in Zimbabwe has been put on sale on eBay for £160,000. Once owned by South African major label Gallo Record Company, the plant was at one time the only vinyl factory in the country and has stood unused since operations ceased in the early '90s. Sold as a single lot on eBay, the plant is an amalgamation of the Gallo factory's Toolex Alpha presses and another set from Lusaka in Zambia.
Part of what was a sparse network of pressing plants in southern and eastern Africa, the Zimbabwean plant pressed editions of hit records over several decades, for everyone from Sex Pistols to Kylie Minogue (some of which are now hugely valuable) as well as for local and South African artists like Miriam Makeba, Ladysmith Black Mambazo and Penny Penny, recently reissued by Awesome Tapes From Africa.
 [NOTE:  SELLER ENDED AUCTION 2/25/2015 DUE TO ITEM NO LONGER BEING AVAILABLE]
You can track the auction and put in a bid here, but you'll have to head to Harare to pick it up in person.
According to research conducted for our recent survey of the world vinyl economy, there are currently no record pressing plants operating in Africa.
Check out photos from the factory below: